Preparing To Sell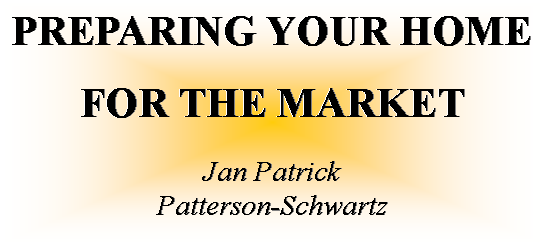 Windows, doors, exterior façade

(wood, stucco, vinyl, brick, aluminum),

 roof

(asphalt fiberglass, cedar shake),

foundation walls

(block foundation/ poured walls),

integrity of wood components

HVAC, Appliances

Main electrical panel, Electric meter/cable, Outlets, Receptacles,(aluminum wiring)

Water heater, operable drains, absence of plumbing leaks  

(polybutylene piping)

Mold, radon, asbestos, buried tanks, rodent infestation(bats, mice, squirrels)

Condition of septic tank, functionality of drain-field
Water analysis, water potability, well flow rate
Termite, wood boring insects

(ants, carpenter bees)

 

  

| | |
| --- | --- |
| | |




 Finished Basements

 HVAC upgrades

 Electrical upgrades

 Plumbing upgrades

 Home improvements involving structural changes

- 

Buyers are wary of homes that reflect deferred maintenance, fearing that when visible components of the home have not been maintained, less visible systems and components will be in poor condition as well.

- 

Buyers overestimate the cost of completing repairs or general maintenance, thereby significantly reducing the amount they are willing to pay for a home (and in some cases, may not even make an offer).

- Consider removing dated or personalized wallpaper.

- A fresh coat of neutral paint can provide an excellent return for the cost invested.

- Consider replacing stained, dated or worn carpeting with neutral off-white carpeting.

- Remove family photographs and personal collections. 

- Personal possessions and collections can become distracting to buyers preventing them from appreciating the benefits of the property itself.

- Pack away extraneous possessions before placing your home on the market. 

- Closets should be cleaned out and organized, knickknacks removed, and excess furniture stored away to ensure that rooms appear open and inviting.

- Beyond routine cleaning, conduct a deep cleaning of the home in which all surfaces, windows and fixtures of the home are made to sparkle and shine. 

- Strong odors including pet odors should be eliminated before marketing.

- Home staging can be accomplished on many levels, from a thorough cleaning to a complete remodeling.


- Some investments reap much more than their costs, while others will never be recovered.

- Seek counsel from a qualified real estate professional to complete final staging.

 




- If plants or gardens have become overgrown, have plants pruned or replaced with new plantings.

- Re-mulch flower beds and gardens.

- Add annual plants to provide a splash of color and texture.

- Create attractive curb appeal by keeping grass mowed, walkways trimmed and weeds controlled.

- Clean or freshly paint front door, entryway and porches. 

- Consider seal-coating the driveway if it has not been refurbished recently.